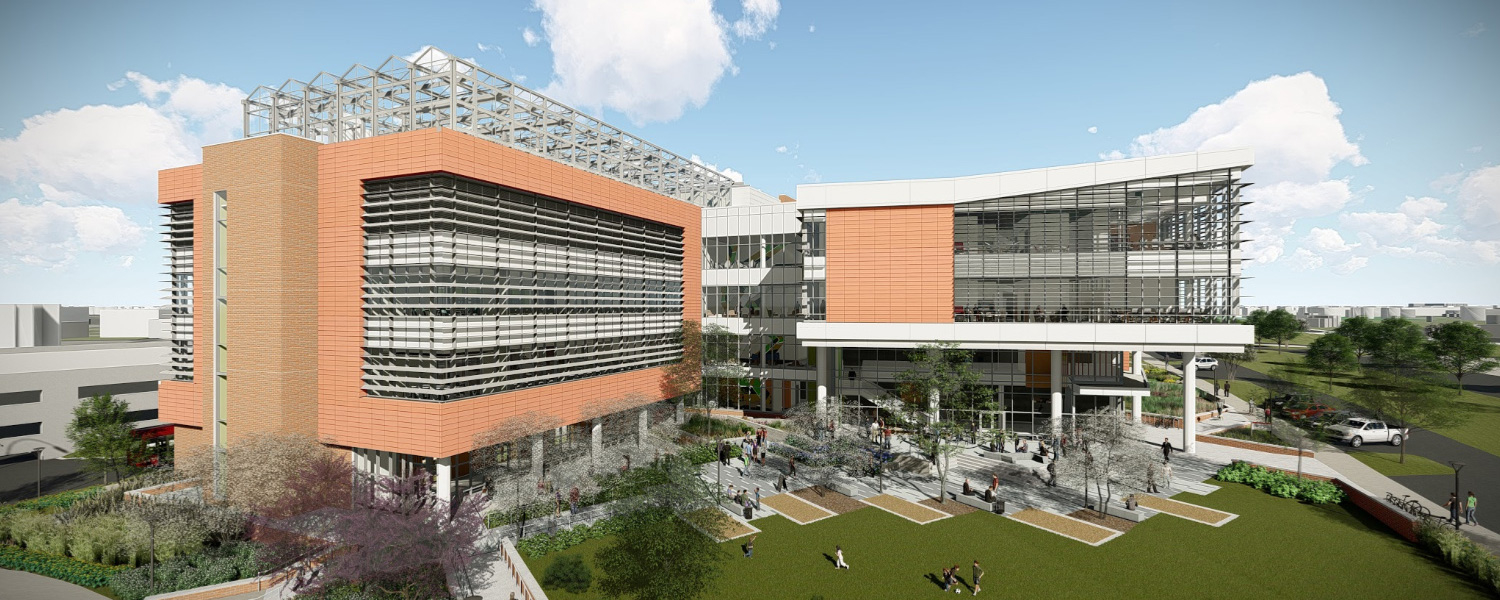 New Construction At-A-Glance
Randleigh Dairy Heritage Museum
Lake Wheeler Laboratories, Raleigh, NC
An interactive museum that doubles as a dairy teaching and learning facility.
What's the big idea?
Educate the public on how milk gets from farm to table – and the Howling Cow Ice Cream carton. Highlight the scope of key state and national impacts from NC State dairy research.
What's inside?
Interactive exhibits and a life-size model showing how a cow produces milk. To see your dairy herd in action, look out the windows to see rolling pastures and a sparkling pond – and its sister facility, the Dairy Education Center and Creamery (see page XYZ), on the neighboring hill.
Has it opened yet?
Yes.
Watch for:
The Jersey cow herd out front is descended from NC State donor William Rand Kenan's original stock.
Howling Cow Creamery Cafe and Dairy Education Center
Lake Wheeler Laboratories, Raleigh, NC
A full-service learning center that allows visitors to learn about dairy production and processing while enjoying NC State-made dairy treats.
What's the big idea?
Provide focused agricultural education through seeing, tasting and doing. Draw attention to NC State's remarkable cow-to-cone dairy facilities, which provide hands-on research and experience capabilities whose operating funds are self-generated.
What's inside?
An NC State-themed ice cream shop with both indoor and outdoor seating. Live video feeds of the Howling Cow plant in operation. Interactive video exhibits on North Carolina's dairy industry.
The Titmus Foundation, Inc., the Scott family and the NC Dairy Foundation.
Has it opened yet?
No – expected to open this fall..
Watch for:
The outdoor deck – especially around sunset.
Dinah E. Gore Teaching and Research Kitchens
Department of Agricultural and Human Sciences, 512 Brickhaven
A state-of-the-art kitchen complex that replicates the cooking capabilities of typical North Carolina homes to facilitate real-world research, teaching and extension.
What's the big idea?
Teach food safety, investigate kitchen-centric health research and allow NC State Extension agents to develop accessible healthy recipes to share with the public.
What's inside?
Architects and designers crafted the space to glow with light and color despite its location in the center of the building. They created an open flow between the large kitchen and the internal lobby, then chose bright colors to enliven the atmosphere, enhance food presentation and reinforce the NC State brand.
Has it opened yet?
Yes, in February 2019.
Who's Dinah E. Gore?
Dinah and her husband Edward are lifelong North Carolinians and longtime benefactors of NC State's family and consumer sciences programs.
Watch for:
The playful custom door pulls in the shape of kitchen utensils, inspired by Department Head Carolyn Dunn's travels.
Sweetpotato Greenhouses
Horticulture Field Laboratories, Raleigh, NC
Expanded growing space dedicated to the annual production of elite sweetpotato plants.
What's the big idea?
Expand growing capabilities of certified disease-free and true-to-type sweetpotatoes for the Micropropagation and Repository Unit (MPRU).
What will the impact be?
Growers who start with certified disease-free and true-to-type sweetpotato plants reap enormous benefits: reduced pesticide use, increased yields and better quality. With demand for MPRU plants quadrupling in recent years, the greenhouses will accelerate elite plant production that drives sweetpotato quality improvements and ensures that North Carolina remains a world leader in sweetpotato production.
Has it opened yet?
Yes.
What's inside?
Space! The opening of the greenhouses is designed to provide capacity for growing up to twice the number of certified plants.
Fun fact:
'Sweetpotato' isn't a typo. Outside the grocery store, the correct scientific term is one word, not two.
North Carolina Food Innovation Laboratory
NCRC Core Laboratory Building, North Carolina Research Campus, Kannapolis, NC
A hub for plant-based food science and manufacturing whose goal is to help great food-related business ideas get to market.
What's the big idea?
Help smaller-scale entrepreneurs scale up and commercialize ideas into market-ready products. Connect national and international companies for collaboration and consulting with entrepreneurs and faculty. Engage university researchers on how to translate technology into commercial products.
What will the impact be?
Boost the North Carolina economy by helping value-added food entrepreneurship stay in-state.
What does "value-added" mean?
If you enhance the value of a product by changing its physical state – for example, making strawberries into jam – that's value-added processing, says the U.S. Department of Agriculture.
What's inside?
State-of-the-art equipment to process grains, fruits, vegetables and raw plant materials by every imaginable method. A product development laboratory and test kitchen, staffed by on-staff food scientists, to support product development and formulation tweaks. It's also the nation's only facility with Current Good Manufacturing Process capabilities: an FDA-regulated system of controls will ensure a high level of quality at every step.
Has it opened yet?
NC FIL is scheduled to open in fall 2019.
NC State University Plant Sciences Building
NC State's Centennial Campus
The launchpad for the NC Plant Sciences Initiative, this building is designed to turbo-charge collaborative, interdisciplinary innovation as the world's foremost plant sciences enterprise.
What's the big idea?
Gather the brightest minds of academia, government and industry under one roof to drive research innovation. Encourage interdisciplinary collaboration by awarding research space on a project basis rather than by department or discipline. Partner to solve grand agricultural and environmental challenges, support the evolution of plant science and solve complex problems. Provide global reach for NC State and North Carolina.
What's inside?
Eventually: 185,000 square feet slated to include collaborative labs and a rooftop greenhouse that can accommodate biosafety level three experiments. For now: Mostly excavators, hard hats and a foundation – construction is expected to continue through the end of 2021.
What will the impact be?
A global home for plant science innovation that drives new and improved production methods, plant varieties, agricultural technology tools, increased crop yields and enhanced sustainability. We will also turn out the strongest workforce trained to address tomorrow's grand challenges in agriculture.
Has it opened yet?
No.
Watch for:
Virtual reality installations showcasing up-to-the-minute field data from around the state
Sustainability focus, including bioretention basins that showcase effective stormwater and erosion control management
Plant materials highlighted in design elements and finishes