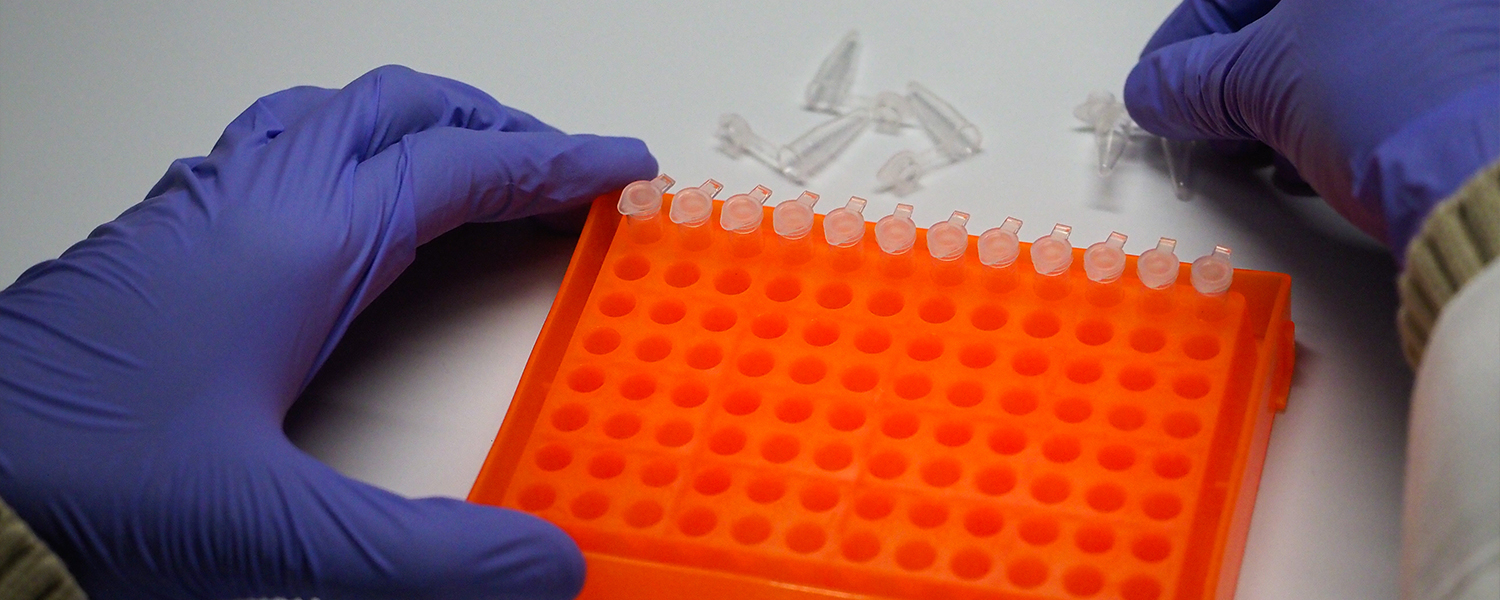 Biochemistry Master's Students Ahead of the Curve
Ashley Campos jokes that she did things backwards. It's more accurate to say she was ahead of the curve.
Eager to be among the first in NC State's Interdisciplinary Biochemistry Master's Program (IBMP) in 2018, she filled out the application last, after doing interviews and taking the GRE.
"Fortunately, everything worked out, and it has been an interesting ride for sure," Campos says. 
IBMP, funded by the National Science Foundation and NC State, prepares students from underrepresented groups for biotech careers, doctoral study or medical school. 
I always like to push myself out of my comfort zone.
"I always like to push myself out of my comfort zone," Campos says. The former collegiate soccer player graduated from Queens University in Charlotte in 2015 and worked for a few years before pursuing a master's degree.  
"When I heard about this opportunity, it definitely piqued my interest to expand my knowledge about biochemistry, as well as get experience in a field of research." 
In August, Campos became the first IBMP student to defend her thesis—right after starting a new job in Durham as a scientist with Eurofins, an international life sciences company.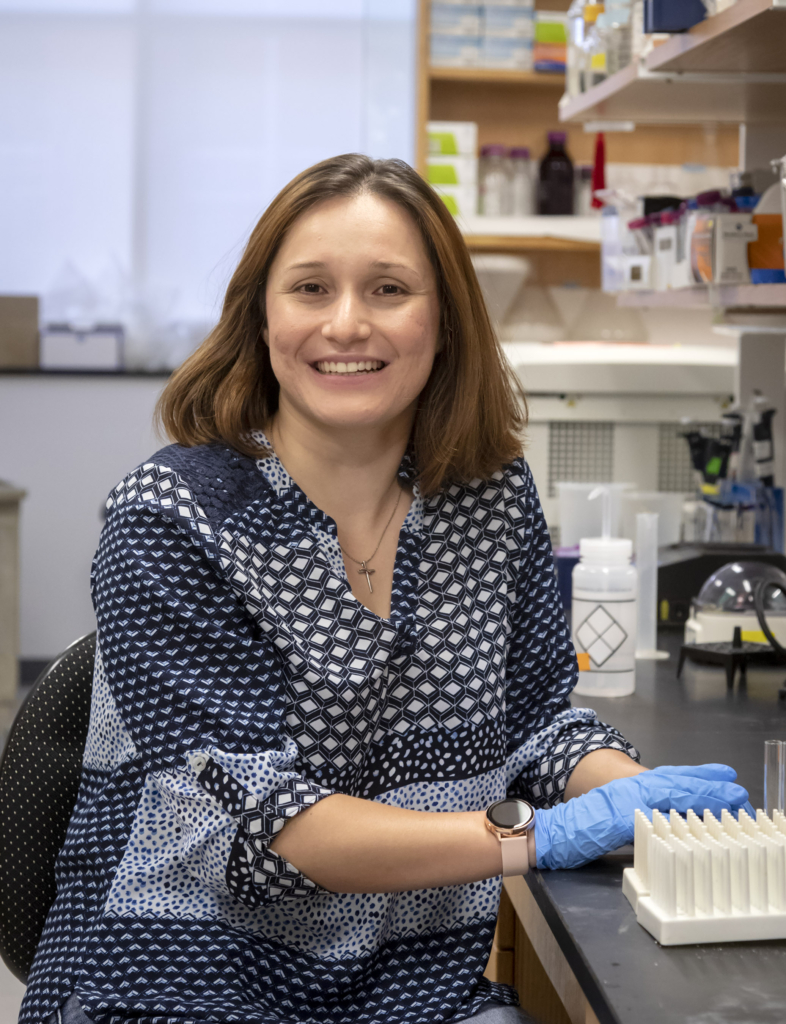 During her interviews, Campos discussed her interdisciplinary research on antibiotic resistance of Campylobacter in cattle, part of the thesis work that IBMP students do in one of five departments.
Campos worked with Sophia Kathariou, a professor in Food, Bioprocessing and Nutrition Sciences, along with researchers in the College of Veterinary Medicine.
IBMP students also work in CALS labs in Animal Science, Prestage Poultry Science, Plant and Microbial Biology, and Molecular and Structural Biochemistry.
"I definitely think that one of the factors for being able to get the job that I did was having that applicable, hands-on experience," Campos says.  
Personalized Support 
Like Campos, Dontae Mosley remembers his excitement in hearing about IBMP during a brief conversation at UNC Pembroke, where he earned a bachelor's in biotechnology in 2019. 
Carrying sandwiches for a meeting, Mosley stopped to show the way to Greg Buhrman, NC State's IBMP coordinator. They talked for 15 minutes before others joined them, but it was a game changer for Mosley, who wanted to pursue a master's. 
"For my undergrad career, my mother and father took out loans in their name and they kind of pushed me through undergrad," Mosley says. "And I was really thankful for that." 
That help wasn't a possibility for graduate school. 
My big career goal is to do rare disease research
Buhrman explained that IBMP provides practical and academic support to increase the number of master's students from underrepresented groups. 
"Our diversity at NC State has been going up fairly well with undergraduates and some for Ph.D. level students, but at the master's level, it's been stagnant," Buhrman says.   
IBMP helps remove financial barriers by providing support of $10,000 from NSF plus a stipend of about $18,000 from NC State. After a mutual matching process in their second year, students receive funding through a research lab.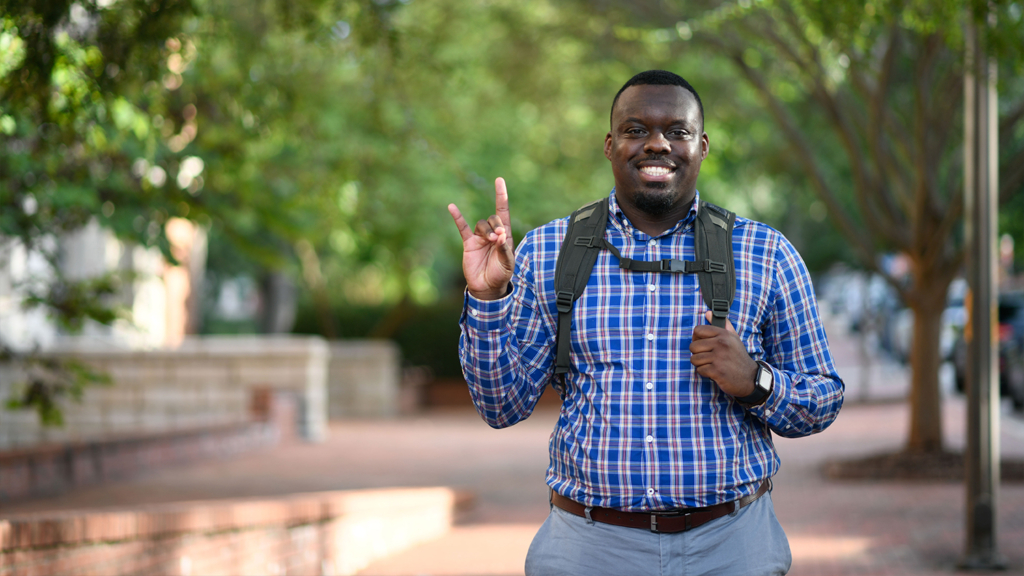 Two months after meeting Buhrman, Mosley interviewed at NC State, leaving with personalized advice on how to make the transition to a large research university. To strengthen his foundation for graduate biochemistry work, he took classes in the spring before starting IBMP in August.  
This fall, he'll spend 25 to 30 hours a week working in a lab. He's looking forward to an IBMP graduate seminar that connects students with biotech recruiters and industry professionals. 
"My big career goal is to do rare disease research—understanding why these diseases happen, the mechanisms behind it," Mosley says. "Getting this degree in biochemistry will help me focus on that."
Pandemic Progress
For Emilio Balbuena, a second-year IBMP student, shutdowns due to COVID-19 had the potential to throw his progress off track. 
Instead, he made the most of working from home in Kannapolis, where he's doing thesis research on nutritional pathways through NC State's Plants for Human Health Institute.
A little over a year in, and I'm already published,
With in-person scientific conferences canceled, Balbuena made a virtual research poster presentation on behalf of the Kerim Eroglu lab. An interdisciplinary team is studying whether brightly colored compounds called carotenoids, such as beta carotene in carrots and lycopene in tomatoes, might protect against lung cancer. 
A few weeks later, Balbuena reached a career milestone, becoming one of the co-authors of a scientific paper in MDPI Antioxidants Journal.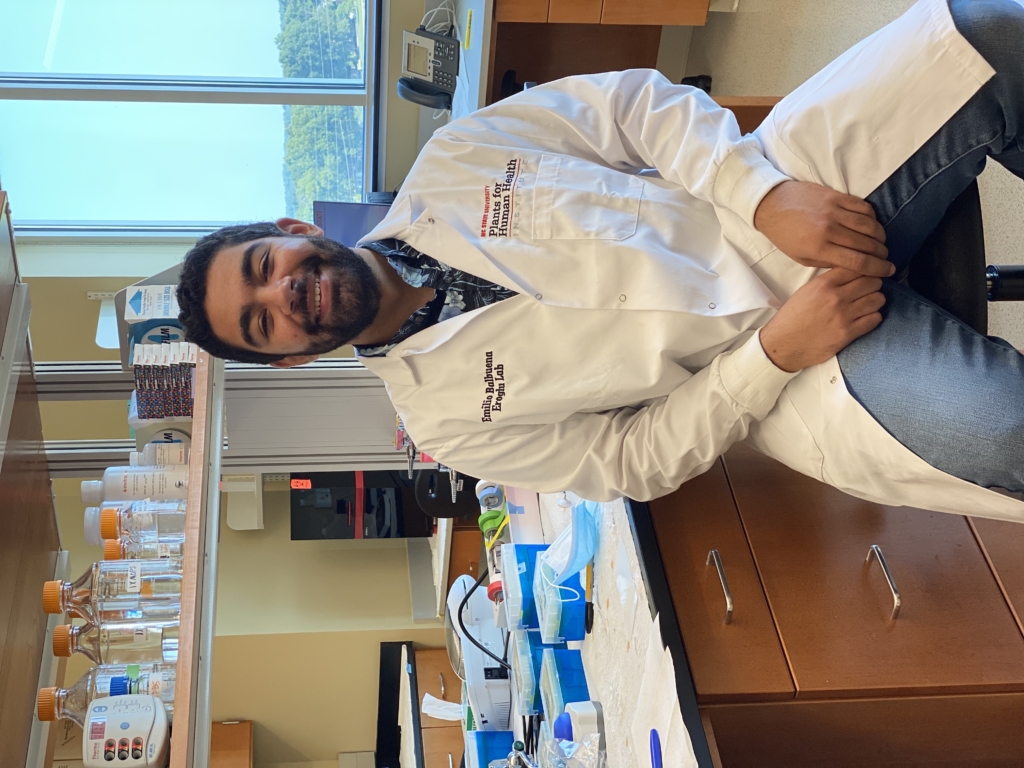 "A little over a year in, and I'm already published," he says. Balbuena, who earned his bachelor's in biochemistry from NC State, credits faculty support for IBMP students, both on and off the main campus. 
"Your professors and committee do checks along the way to make sure you're on the right track with your thesis project," he says. "You've got people looking out for you."
Learn more about NC State's Interdisciplinary Biochemistry Master's Program: go.ncsu.edu/ibmp