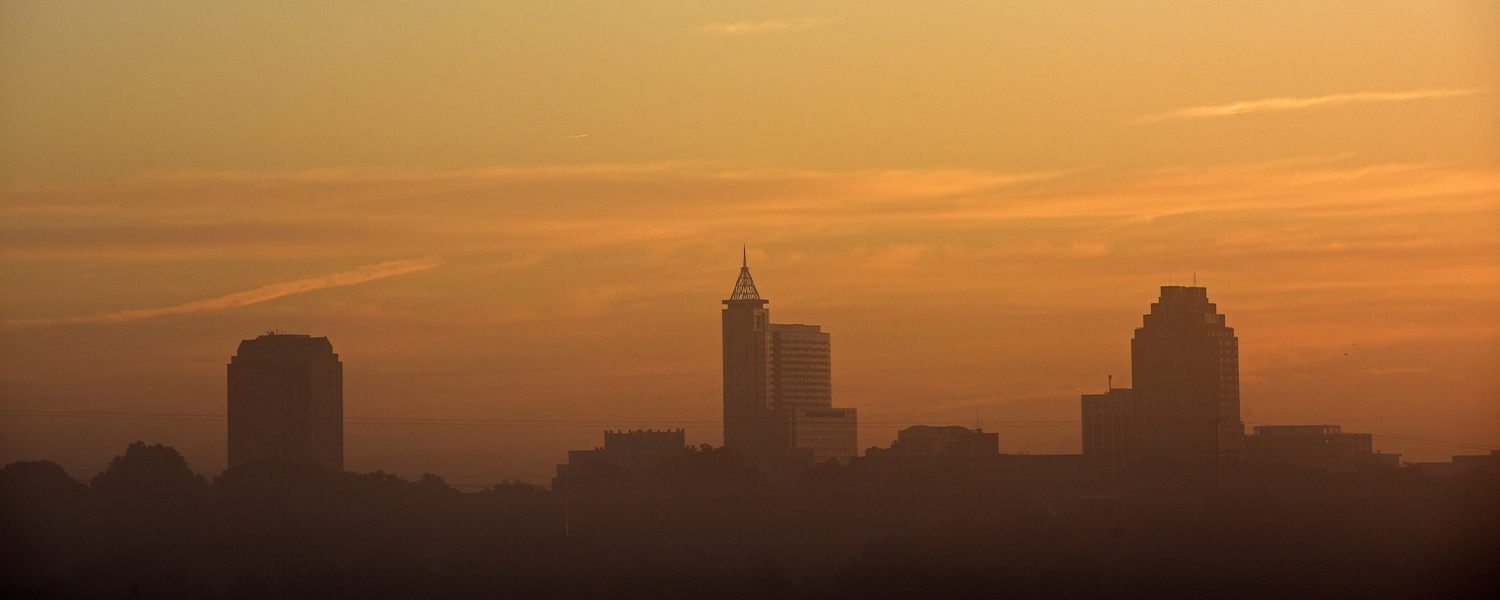 From Sunrise to Startups, Grad Students Plan Futures
CALS graduate students keep an eye on farming's horizon. In labs and fields, they're working to solve today's problems and preparing to take on tomorrow's challenges.
CONNECTING FOOD AND CROP SCIENCE
The seed of Ph.D. student Amanda Kaufman's interest in food science was planted back in high school, when she took a class on food safety in Lincolnton, North Carolina.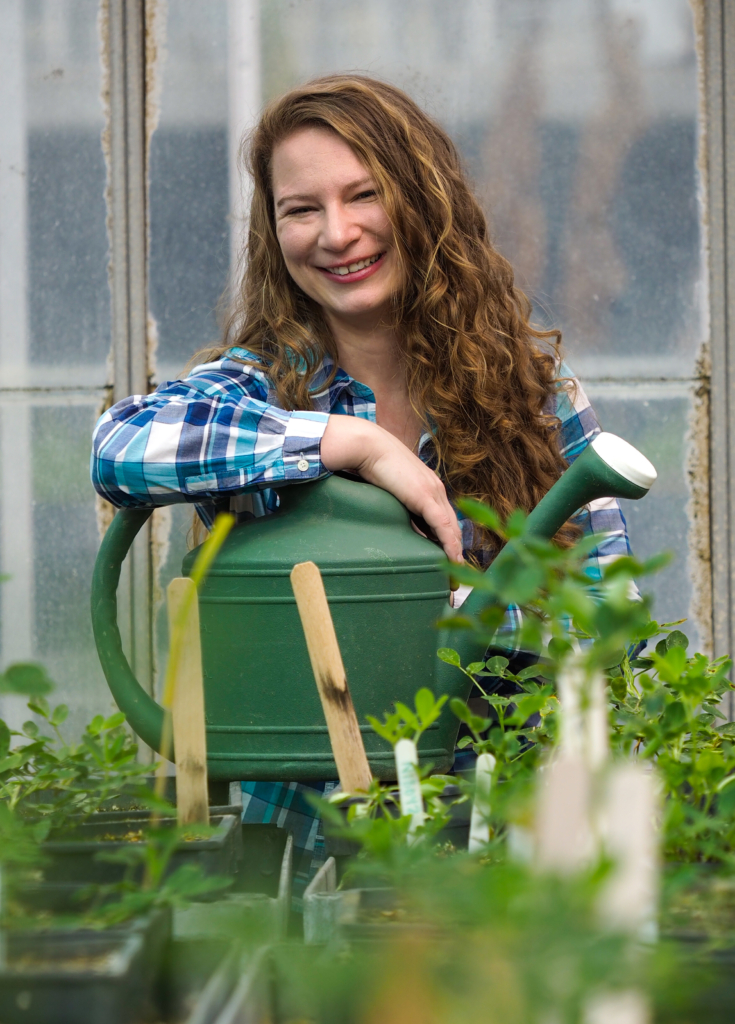 She came to NC State to study food science and bioprocessing science, then worked in the food manufacturing industry for a couple of years. After learning about nutritional supplements, carbonated soft drinks and chocolate manufacturing, she wanted to know more about the agricultural side of food science. "I wanted to be closer to the growers and closer to the farms," she says.
She returned to her alma mater for graduate studies and was able to join a project in the Department of Crop and Soil Sciences, researching the incorporation of organic peanuts into the supply chain in North Carolina.
As organic foods gain ground in public conscious-ness and on grocery store shelves, more and more farmers are interested in transitioning their crops—but that requires substantial investment, time and risk. Kaufman's research involves gathering information from both growers and consumers to offer insight on potential payoffs and help farmers make informed decisions about organic production.
I wanted to be closer to the growers and closer to the farms.
"We don't have any concrete information for North Carolina interest. That's definitely something we're hoping to get to support farmers who might be interested in growing organic peanuts but don't know if there's even a market for it, specifically in this state," she explains. 
She's also studying pesticide use in peanut farming, both on research stations and in the lab. In addition, she's working on maturity studies to help farmers assess levels of oleic acid in the peanut crop at different times, as oleic acid becomes prized for its health benefits and role in shelf stability of processed foods.
Kaufman says she feels fortunate to have found research projects that bridge food science and crop science, working with co-advisors Lisa Dean, U.S. Department of Agriculture Professor in the Department of Food, Bioprocessing and Nutrition Sciences, and David Jordan, William Neal Reynolds Distinguished Professor in the Department of Crop and Soil Sciences. And she doesn't mind spending a lot of time with peanuts.
"It was perfect that it was peanuts, because I eat peanuts—I love peanuts," she says, laughing.
Kaufman enjoys learning about other changes on the horizon for farming, including robotics, digital farming and advances in crop protection. She doesn't plan to end her time in the lab or the field after finishing her doctorate.
"I love doing research, so I definitely want to stay in some sort of research role," she says. "I'm also a food scientist at heart."  
RURAL ROOTS
MaKayla Gross' view of the future of farming looks a lot like home. 
She grew up on her family's farm in Lee County, and she and her siblings plan to be the sixth generation to work that land.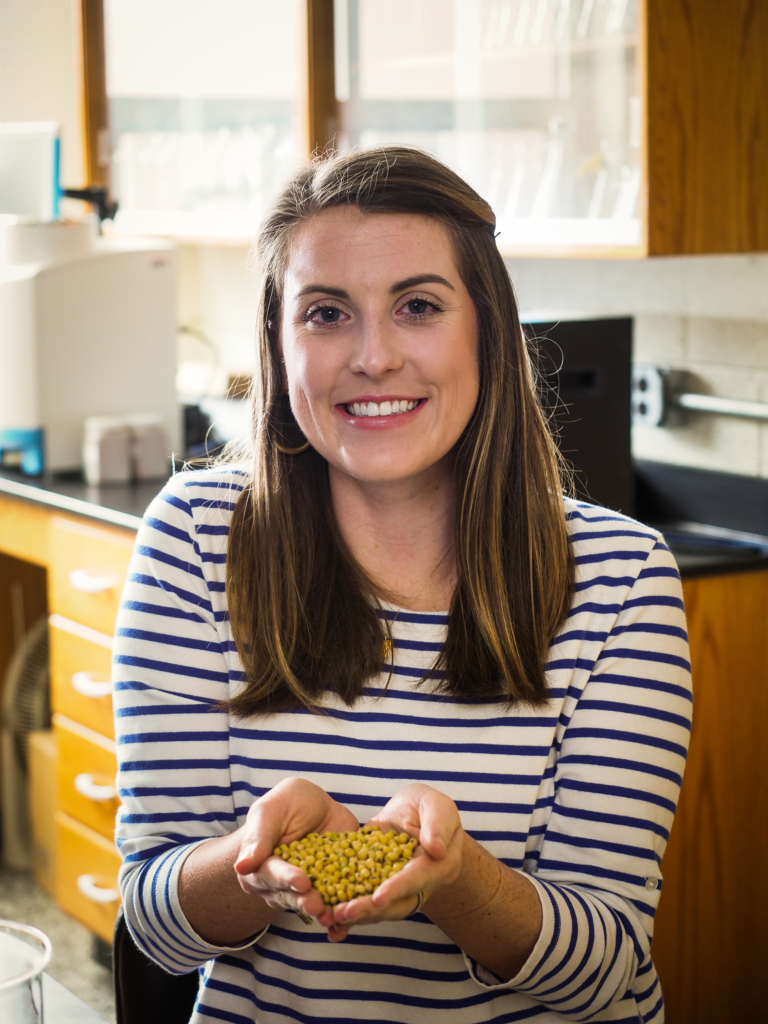 "I grew up picking vegetables in the summer and working at our produce barn in the spring and the summer. We have a corn maze in the fall. We grow soybeans, tobacco, rye and more. We've always dabbled in everything, so I always knew I wanted to go into agriculture," she says.
Still Growing
MaKayla Gross also serves as the Visit NC Farms app administrator for Lee County. 
This spring, that opened up new opportunities for Gross and Callie Steger, an NC State senior majoring in crop and soil sciences.
To make it easier for farmers and consumers to connect during the pandemic, Bill Stone, Lee County Extension director, commissioned a video series called Still Growing.
"With the situation and people being more concerned about where their food is coming from, we felt like now was the perfect time to bring people's focus back to what's right around them and what kind of products they can get from farms in their area," Stone says. 
Steger shot the videos and wrote the scripts, with Gross lending a hand on editing and topic ideas.
"We're really trying to tell the farmer's story and to make that connection between these families that grow this food while also bringing awareness to the fact that farmers are still working in this time of COVID-19," Steger says.
"People are looking for more local food, and they want to support small businesses," Gross adds. 
So far, the response has been strong, and commodity groups have shared the YouTube videos on local strawberries, nursery and ornamental plants, produce and blueberries. 
As a graduate student in the soybean extension program, Gross works with Rachel Vann, assistant professor and extension soybean specialist, to investigate how winter crop rotations affect soybean productivity in North Carolina and update grower recommendations. 
Emerging winter crop possibilities, including peas, rapeseed and various cover crops, would allow farmers to choose the rotation system that best fits their operation. 
My ultimate goal is to support the growers of North Carolina in the best way that I can.
With a global population of nearly 10 billion expected by 2050, soybean production will only increase in importance, Gross says. Soybeans are used in animal feed, protein-rich food for humans, cooking oil and biodiesel fuels, as well as other industrial applications. 
More efforts to support soybean production are on the horizon for farmers in North Carolina and beyond, Gross says.
"Technology is changing, and growers are having to change. They have to adapt to this technology in order to maximize their land because we're having to grow more food on less land than we ever have before, and I don't think that that's going to get any better," she says. "We have to find ways to maximize what we're doing and do it efficiently and effectively."
After graduating this fall fall, Gross plans to bring on-farm research home to her family's land, where diversification has always been key.
"It's in my heritage. It's in my blood," she says. "Waking up when the sun comes up in the morning and going as hard as you can that day, relying on Mother Nature. … I just love being able to plant a seed and nourish it and provide it everything that it needs, and as the end result to get to harvest that crop."   
AN INTERDISCIPLINARY JOURNEY
Jabeen Ahmad headed to law school with a strong desire to help people, and in her time as a trial lawyer and public defender, she did just that. But the hard, often heartbreaking work wasn't something she could sustain. She started looking for different ways to use her legal background, along with the communication skills she learned studying journalism and anthropology as an undergraduate.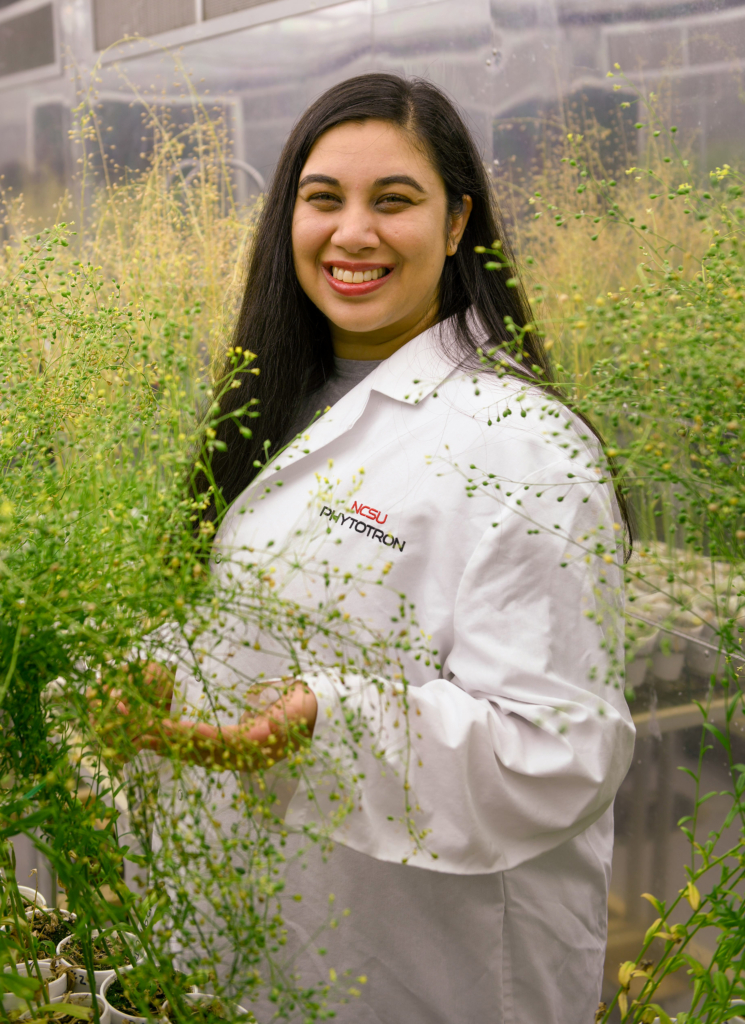 To strengthen her scientific foundation, Ahmad came to NC State, where she completed a master's degree in physiology and is now a third-year doctoral student in plant biology.
"Interdisciplinary studies are crucial now. It is absolutely essential to have a skill set that can cross into all of these different spheres,"  she says.
Ahmad says her new experiences provide a pathway for doing what she really loves, "constantly being challenged, solving problems, learning new things, and then being able to use the legal skills I have in order to help people innovate and protect their inventions." Her goal is to help people turn their ideas into reality. 
To feed a growing population, innovation will be vital to shaping farming for the future, she says. The key question she's working on: "How can we develop technology that can change our farming processes, or even change the crops and the plants that we use, to meet this demand of providing enough food to feed everyone?"
Specifically, Ahmad and her advisor, Amy Grunden, William Neal Reynolds Distinguished Professor of Microbiology, have been studying the microbiome—bacteria, fungi and other organisms—that live in soil or on plant roots. They're looking for ways that these microbes can help plants adapt to challenges without pesticides, fertilizers and other potentially harmful chemicals.
Interdisciplinary studies are crucial now. It is absolutely essential to have a skill set that can cross into all of these different spheres.
"If we can find more ways to naturally help plants survive and thrive in adverse conditions, then that really opens up an entire world of research and possibilities for crop production, for food sustainability and for environmental rehabilitation," Ahmad explains.
Some farming innovations, like genetically modified crops, are hard to understand, and thus not always well received. Ahmad says that's where an interdisciplinary background like hers can be helpful.
"It is really important for us in the research world, in the science world, to be able to communicate what it is that we're doing, why it's important and clear up all of the misunderstandings that exist out there," she says. 
After her doctoral studies, Ahmad hopes to be part of an agricultural technology startup. She wants to do research, offer guidance and bring together interested parties. Just as she once did in court, she wants to help reach solutions that allow people to thrive.