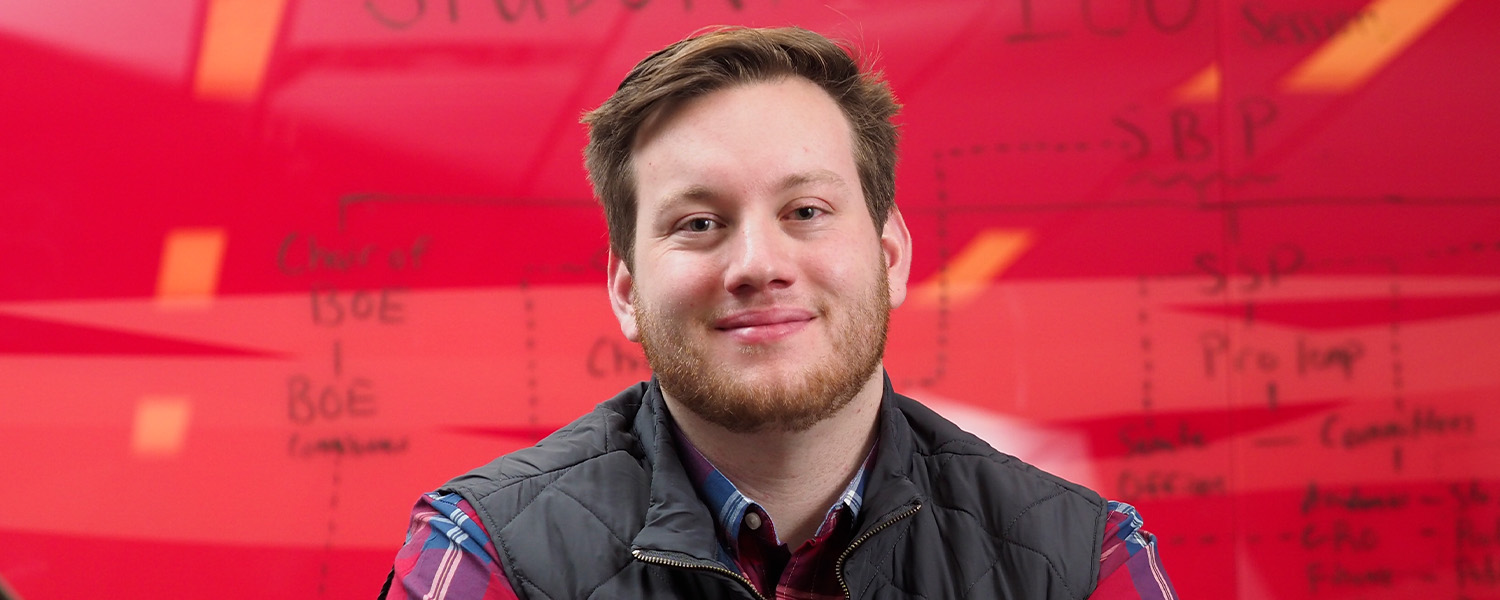 A Leading Advocate: Master's Student Coleman Simpson
In the midst of the pandemic, graduate student Coleman Simpson found a way to support fellow CALS students: He successfully applied for a $13,000 grant to offer counseling services.
Learn more: go.ncsu.edu/CALSCounselingSupport
Simpson, a master's student in agricultural and extension education, serves as NC State's Student Senate president. We asked Simpson what motivates him to advocate for others.
What led you to apply for the counseling services grant? 
One of the most impactful experiences I've had on campus is being part of the Oaks Leadership Scholars, which is a leadership program designed for College of Agriculture and Life Sciences students. That's where the whole mental health project idea came from. Dr. Monica Osburn, director of the counseling center, talked to us about mental health amongst students and data they had collected. I just had this whole moment: College students are facing a crisis, in and out of a pandemic, around mental health. 
Farmers and producers are also facing a mental health crisis. There's a beginning foundation of research about what is going on in the mental health of rural communities: lack of resources, contributing factors and stressors, like you can't control the weather, you can't control the economy. Some states like New York have a rural health network that offers mental health and wellness services. North Carolina does not.
I'm a grad student. I don't have time to build an entire network, unfortunately. But I know so many classmates, friends and other people in the college that are going to go back to the farm or start their own production when they graduate. Let's start with them, and let's give them these resources. 
What lasting impact do you hope will come out of the grant? 
For students, working on destigmatizing our conversations around mental health and showing it's OK to need counseling services and support. Then with faculty and staff, taking it a step further to, "Here's how you support students in crisis, and here's how you support students who need help."
This is an intentional drive for supporting students. We have a lot of great academic supports. We have a lot of career and professional development supports. But we also definitely need to make sure that we have wellness support so we're taking care of students holistically.
What brought you to CALS?
I am from Sampson County, which is rural, very agricultural. But I was a theater kid, so I was as far away from the fi eld as possible for a long time. And then I got involved in FFA in high school. I fell in love with the public speaking events. I was like, "A stage? I love it." And I also loved the skills that it helped me cultivate.
My advisers at that time, Elizabeth Pack and John Fortner, built me up and kept me in check when I needed it, because I was a teenager. I loved the fact that there's this whole industry that touches the world and provides so many resources—feeding everyone, providing clothes, providing medicine. Working in our greenhouse, it was fun to just literally see the fruits of your labor. 
So I came to NC State. I got accepted into the agricultural education program, and I got lucky enough to be invited to join the Thomas Jefferson Scholars, which is a dual degree program between CALS and CHASS (the College of Humanities and Social Sciences). 
Did I read correctly that you studied poultry science and political science as an undergraduate? 
My junior year, I realized I did not want to teach in a traditional high school classroom and wanted to focus more on leadership development of people. So, I switched into the agricultural science degree in the same department.
I was doing a horticultural concentration, which I kept, but then my very first class in college was Intro to Poultry Science. Dr. Lynn Worley-Davis is a phenomenal professor. And I was like, "Huh, I like animals." I enjoyed learning how you raise chickens, process them and care for them, so I picked up a poultry science concentration. 
I took all the leadership classes taught by Dr. Jackie Bruce and Dr. Katie McKee (in Agricultural and Human Sciences) and those were super fun. That's why I decided to come back to grad school. I'll graduate with a Master of Science in agricultural and extension education, and I just got accepted into the master's program in public administration. I like this hybrid of agriculture and leadership and policy and government. I think that's where I can make the greatest impact in the world.
Did you contribute to a book with Dr. Bruce and Dr. McKee? 
In fall 2019, Oaks student Libby Indermaur and I wrote a case study on allyship. We primarily took it from an LGBTQ lens, talking about how to support LGBTQ students in the agricultural programs, what it means to use gender-neutral and gender-affirming language, what it means to understand that you can't assume that I'm going to have a girlfriend. It's difficult to navigate those types of conversations if you're not comfortable with being out in your identity and what questions you need to reflect on, how you can support students.
You describe yourself as a theater nerd. Are there any characters from stage or screen who've inspired you?
Elizabeth McCord from "Madame Secretary." If I was ever in government, she's exactly who I would want to be, someone who's whip-smart and stands in her values and always tries to do what's right, even if it's not expedient or the smart thing to do. And I'm behind on the TV show, so, if someone's reading this, don't text me with the spoilers. 
Another favorite from theater has been Elphaba from the "Wicked" musical. I found her in middle school, which was when I saw "Wicked" for the first time and when I came out of the closet. Someone who was navigating being different and having people acknowledge you as different and perceive you to be bad just because there's something different about you, really resonated with me. I also just love the music.
CATEGORIES: Newswire, Spring 2021