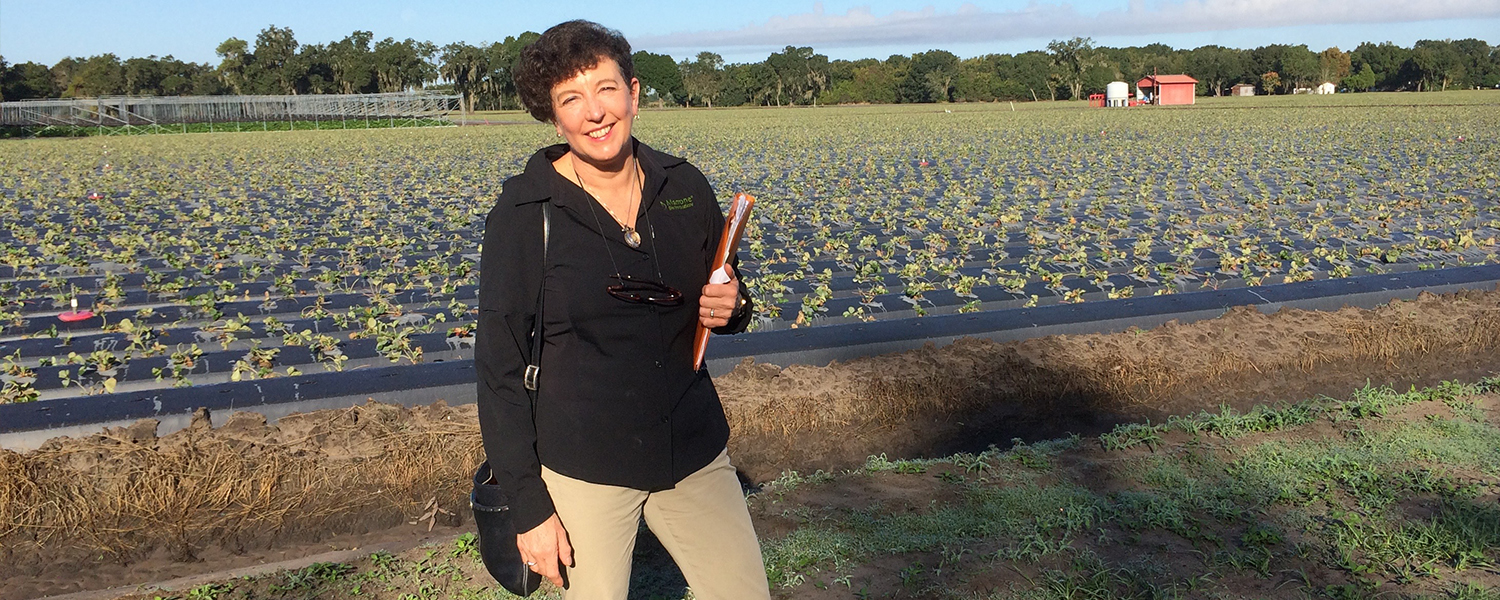 Alumna Pam Marrone's Career Produces Bio-Ag Breakthroughs
CALS alumna Pam Marrone draws back the curtain for entrepreneurs, demystifying pathways to success. Since earning a Ph.D. in entomology, she has discovered, developed and guided to market more than a dozen groundbreaking biological solutions for agricultural pest management and built two startup bio-ag companies from scratch to millions of dollars in revenue.
Marrone, executive chair and partner at Primary BioAg Innovations and Global BioAg Linkages, focuses on pest control products derived from living organisms—for example, plant extracts and microbes that limit damage from insects and diseases. She says most startups offering one or a few biological products fail to "cross the chasm" from small niche markets to mainstream success.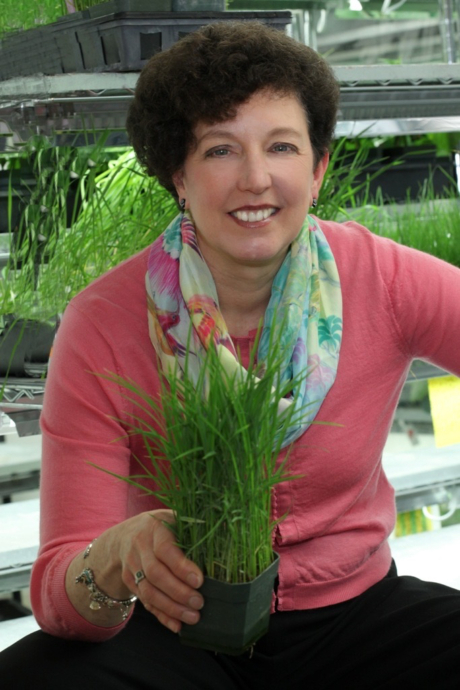 A startup's new biopesticide, for instance, might better control a fungus while improving soil health and providing other environmental benefits. But growers are understandably cautious about unfamiliar products. 
"There are about 150 companies worldwide that develop and sell not only biopesticides but also bionutrients, biofertilizers and biostimulants, which increase crop growth without controlling a pest," Marrone says. "But very few get above $10 million in revenue. That's where I'm helping to advise and mentor." 
About half of her clients are startups, and the other half are more established biological companies that want to expand globally and enter the U.S. market. Marrone advises her clients to develop strong scientific data on their products, collaborate with growers on experimental plots, demonstrate grow-out success stories, gain other early adopters, and finally reach out to distributors and agricultural extension specialists who are gatekeepers to mainstream growers.  
"She is a great mentor," says Fatma Kaplan, CEO of Pheronym, based in Davis, California. Pheronym develops pheromones to control the behavior and development of nematodes for plant protection. "When you're a startup like ours, you are very good at running the science aspect, because that's our training. But when it comes to the business aspect, it's not that easy. 
"We were talking to a distributor, and the minute we said, 'Oh, you know, Pam Marrone is our adviser,' suddenly our technology had a credential because the distributor knows her and her credentials. You have a lot of uncertainty as a startup, and in each phase, there are new challenges. You need to have positive people around you, and Pam has a lot of positive energy."
Marrone credits NC State, a leader in integrated pest management research and education, for her nearly 40-year agricultural science career. "I had a practical curriculum in applied ag sciences, taking courses in plant pathology, all kinds of entomology, soil science, and crop and weed sciences," she says. "When I graduated, although I hadn't grown up on a working farm, I had a breadth of the disciplines."  
But it wasn't easy for women in agriculture when she started out. "NC State's graduate program was one of the few that didn't ask discriminatory questions or say they didn't want any women. They welcomed women with open arms." 
My legacy is that I have brought deep science to this industry, showing that these biological products are not snake oil and that they offer value in IPM programs.
In her first informational job interview as a graduate student, she was taken aback by unvarnished sexism she encountered in the business world. "My cohort of three women at NC State went to talk with a local chemical pesticide company. The interviewer said, "I'm going to ask you how many babies you're going to have before you're 30.' I was astonished and said, 'You can't ask that question. And he said, 'I just did.'"
She began her industry career at Monsanto partly because "they didn't ask those kinds of questions." For Monsanto, she developed high-throughput, automated systems for identifying proteins to fight corn rootworm. Monsanto engineered a protein that the team identified into its corn seed, which became a blockbuster product for the company.
Her first start-up, Entotech, was a biopesticide company for the Danish company Novo Nordisk. Her second bio-ag start-up, AgraQuest, was acquired by Bayer Crop Science for nearly $500 million. Her third startup, Marrone Bio Innovations (MBI), was listed on NASDAQ in 2013. MBI has screened over 18,000 microorganisms and 350 plant extracts to develop seven successful product lines. Marrone stepped down as CEO in 2020 to focus on advising clients.  
"My legacy is that I have brought deep science to this industry, showing that these biological products are not snake oil and that they offer value in integrated pest management programs," she says. "Biologicals have become more mainstream. But $60 billion in chemical pesticides are sold today and only $3 billion in biologics. So, we still have some way to go with companies that could cross the chasm to mainstream success."
Marrone is investing in the future at CALS, where she and her companies are longtime supporters of faculty programs. With her husband, Mick Rogers, Marrone was one of the first to make a naming donation to the new Plant Sciences Building. She also has a million-dollar planned gift to create entrepreneurial awards for graduate students in the Department of Entomology and Plant Pathology.
"The CALS faculty, especially in entomology, were so dedicated to helping students succeed," Marrone says. "For that and the fundamental IPM education, I wanted to give back to CALS."
CATEGORIES: Newswire, Spring 2021