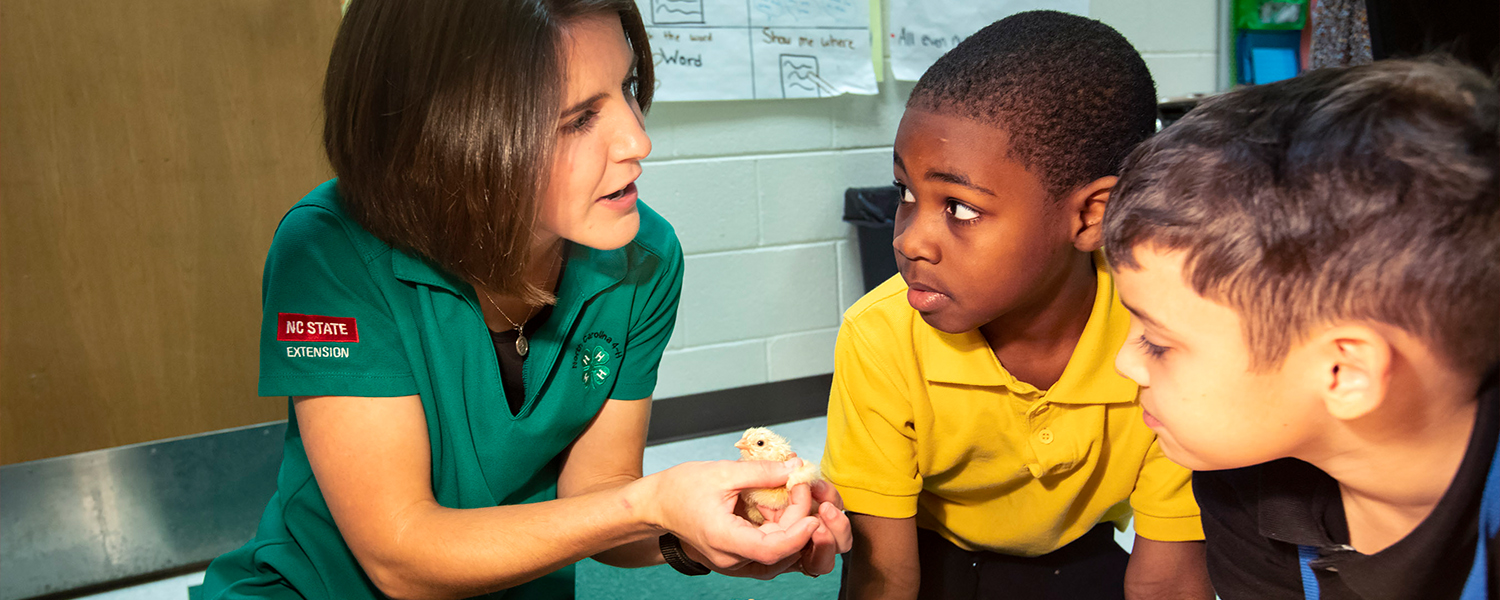 Learning About Creatures Great and Small Through 4-H 
Students' eyes light up as they watch a chick peck its way out of the eggshell—the pinnacle of the 4-H embryology project. Those moments of wonder happened with 56,000 students in schools across North Carolina in 2019, satisfying state science requirements.
In Johnston County, 33 classes were anticipating that experience when schools closed in February 2020. 
4-H agent Courtney Stanley and program associate Laura Pilkington hatched a new plan. To share those moments virtually, they trained the office iPad on an incubator of eggs in Pilkington's office, adding a fan to cool the tablet and repositioning it often. 
It was a huge, huge success, way more than we had ever anticipated.
"That way, if there was a chick about to hatch, we would definitely get that one on camera," Stanley says. "Then I would get on Facebook live on my phone so that I could go through and answer any questions that we had on the newsfeed."
In two hours, her video reached more than 95,000 viewers and was shared nearly 500 times.
"It was a huge, huge success, way more than we had ever anticipated," Stanley says.
And while schools are reopening this spring, the virtual option is another way to share science lessons and special moments. "We're going to be doing the webcam again this spring," Stanley says.
"Obviously this is a very hands-on program and the very first option we want is to let the kids experience it firsthand. We know that if students have six hours of experience with a topic, they're likely to remember it."
Stanley has also done virtual sessions on butterfly life cycles. Pilkington created albums of images to share with others across the state.
Tradition Meets TikTok
Similar innovation took place last spring with much larger animals: goats, sheep, pigs and calves in 4-H livestock shows and judging competitions. 
After working with an animal such as a pig for four months, caring for it twice daily, 4-H members head to the show ring, where market class and showmanship competitions can be decided in as little as 20 minutes. But that wasn't possible last spring.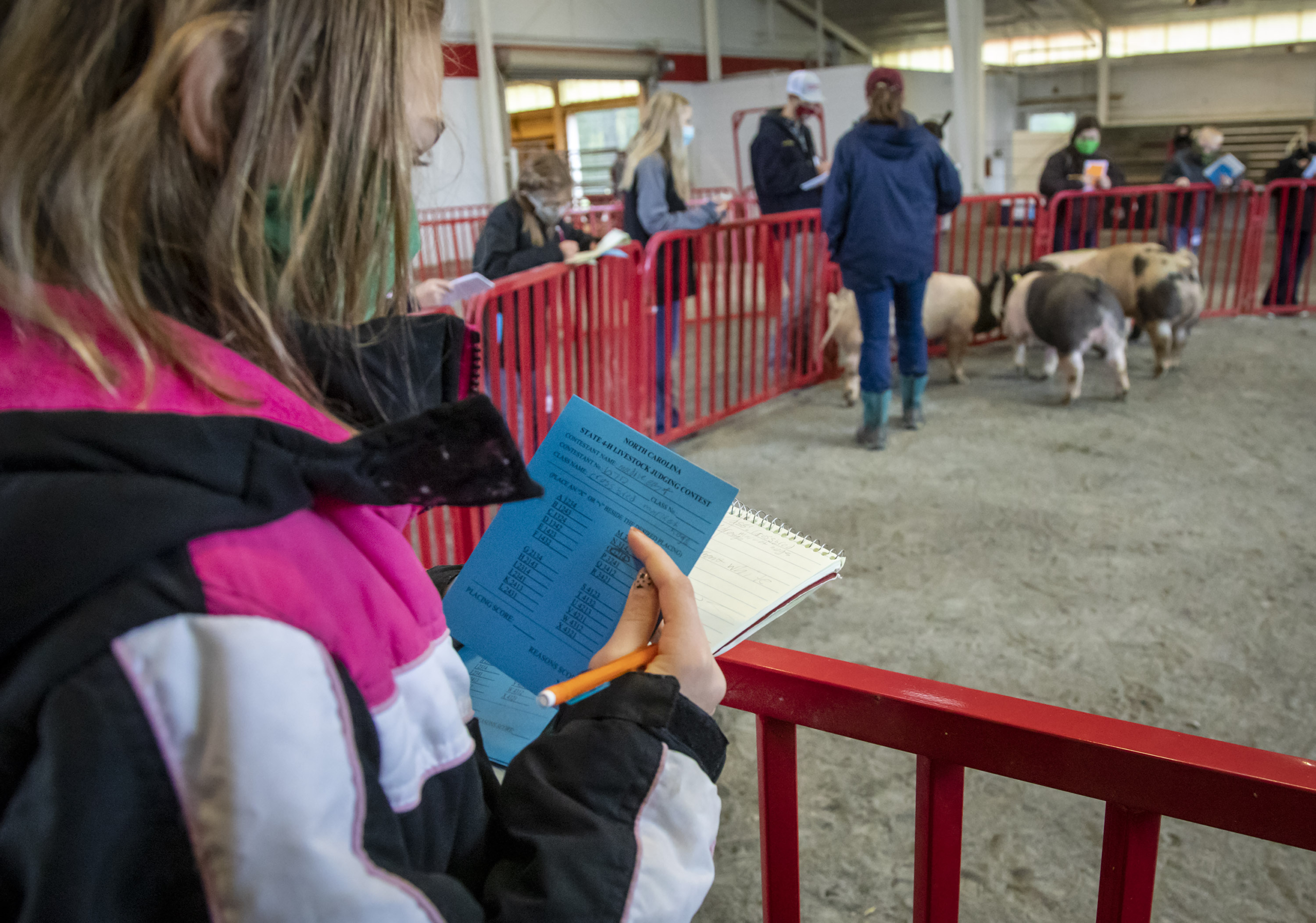 "We realized we couldn't evaluate showmanship traditionally," says Brent Jennings, 4-H livestock extension associate in the Department of Animal Science. "So what we did from a virtual standpoint was to have the kids write an essay about what they learned. We also allowed them to do virtual barn tours, where we could have them do public speaking. We did best TikTok video and a costume contest where kids could dress up with their animals. They loved that."
That's how three North Carolina 4-H'ers came to be featured in a New York Times article. Rockingham County's Katelyn Hewitt, one of the barn tour winners, opened her video with a cartwheel. Pasquotank County's Jacob Meads, an intermediate essay winner, was quoted. Tyrrell County's Mackenzie Odom and Mr. Eyelashes, her goat, were also a hit. 
While modified shows are now possible, virtual options such as the essays and TikToks, will be refined, Jennings says. They'll be used judiciously to avoid causing digital burnout.
4-H agents who have missed the face-to-face work helping kids with their projects teamed up to do weekly livestock judging clinics, offered live and via archives. 
This spring, more than 100 4-H'ers have signed up for livestock skillathon practice sessions with digital resources and prizes, coordinated by an NC State student. And a Meat Goat Leadership Institute typically held at NC State will be virtual this year, with tours of an Illinois farm.
Want to learn more?
Whether you're interested in beekeeping or beef cattle, 4-H has a project for that. Contact your county Extension center for information about local programs. Browse 4-H projects online at:                                      https://4-h.org/parents/curriculum/
Whatever 2021 brings, the 4-H goal of learn by doing won't change. 
"Working with animals is an avenue to learn about responsibility, to learn about record keeping, to learn about ethics and morals and competitiveness," Jennings says. "Ultimately it's about animals making us better people."
CATEGORIES: Newswire, Spring 2021