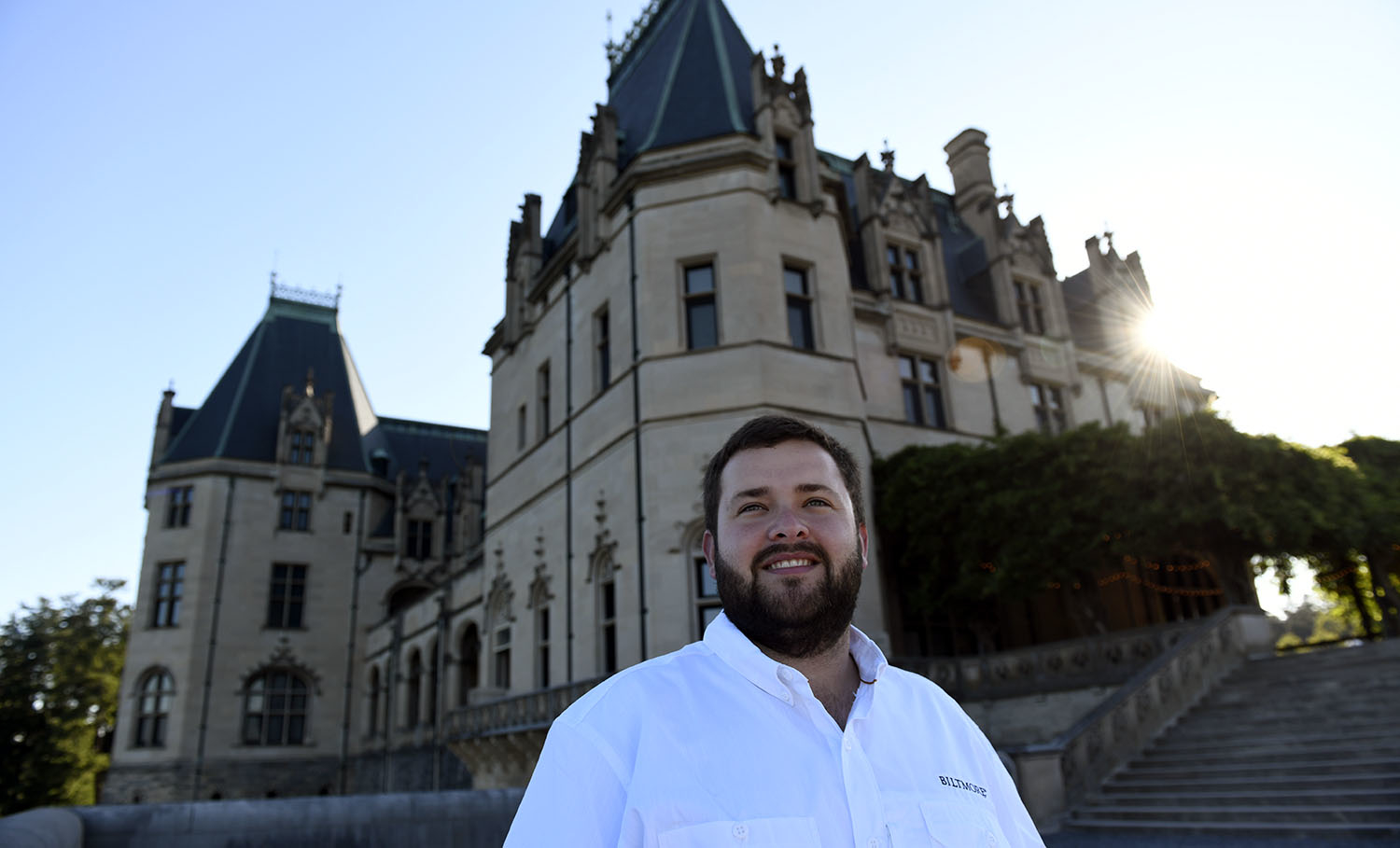 From Brickyard to Biltmore
When Kyle Mayberry attends a cattlemen's convention or agricultural trade show, one of his favorite parts comes right at the start of every conversation: telling people where he works.
"It usually generates a lot of excitement," he says.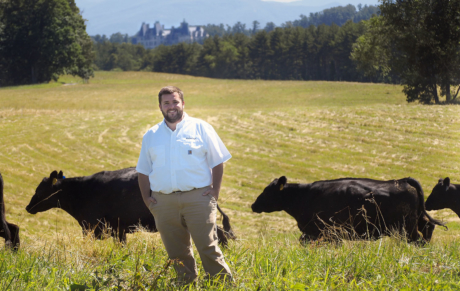 Less than a year after collecting his animal science master's degree from CALS, Mayberry is livestock director at the historic Biltmore Estate, a top North Carolina tourist attraction and site of the largest private home in the United States.

Down winding roads from the Gilded Age chateau, mostly invisible to the international array of visitors who stream through the house and gardens each year, Mayberry and his staff oversee about 600 head of cattle and about 250 purebred sheep on the estate's 8,000 acres.

It's not your usual first full-time job. In fact, it's one of the best first-placements of an animal science master's student ever, says Department Head Todd See.

"Biltmore is so unique," See says. "The fact that they picked Kyle is huge – especially for his age, it's a big deal."

Especially for his age, the fact that they picked Kyle is a big deal.

The department aims to give students an edge in the job market by equipping them with a diverse agricultural background, one that's balanced between research and practical experience.

The department's success can be seen in alumni like Mayberry.

"Kyle has been an excellent addition to our agricultural team due to his academic accomplishments as well as his field experience," says Biltmore Vice President of Attraction Operations Rick Conard. "He has already proven he will continue to be a major asset to our program."
"…We shall all be proud of our parts in it"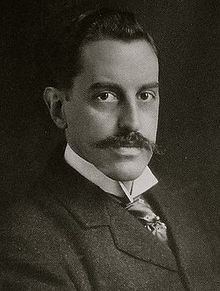 Biltmore was the brainchild and passion project of shipping and railroad heir George W. Vanderbilt. After visiting the Blue Ridge Mountains in 1888, he began construction of a home there one year later. The stately limestone mansion would ultimately house 35 bedrooms, 43 bathrooms and 65 fireplaces, a grand setting for important visitors ranging from U.S. Presidents William McKinley and Theodore Roosevelt to famous novelists Edith Wharton and Henry James.
But Vanderbilt wanted more than just a nice house in the mountains. Inspired by European estates and his sister's farm in Vermont, Vanderbilt's vision was for a self-sufficient agricultural enterprise. He enlisted the help of renowned landscape architect Frederick Law Olmsted, who also designed New York City's Central Park. It would be Olmsted's last and largest private project.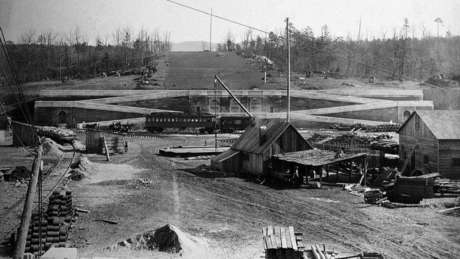 "It is a great work of peace we are engaged in, and one of these days we shall all be proud of our parts in it," Olmsted wrote during construction.
Biltmore-raised meats, poultry, fruits and vegetables were for use in the Biltmore House kitchens. Later, the venture grew into commercial operations, including Biltmore Dairy, that provided crucial revenue to sustain the estate's operations.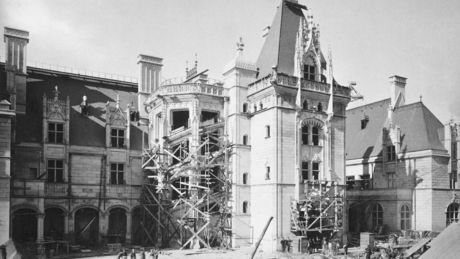 Today, farming might not be top-of-mind for most Biltmore visitors – unless you keep your eyes open for clues. Step into Biltmore Winery, and you're walking through a renovated milking parlor. A former horse barn has been converted into a mini-museum with a model farmyard outside. Photographs of the farm families who once lived and worked on the property line line the hallways of one of the property's two hotels.
Mayberry's commission is to guide the livestock operation into a sustainable future, but he also plays a key role in preserving its historic past. Where most operations have the luxury of demolishing and rebuilding aging structures, Mayberry and his crew must take a more creative path.
"We find new ways of revitalizing and reusing original structures," Mayberry says. "It's pretty neat – I get to see these older structures come to life and evolve as the industry evolves."
"Soft-spoken and very funny"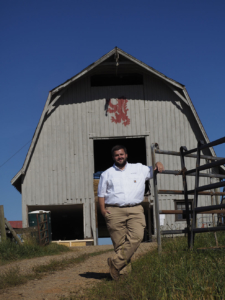 Growing up in rural Taylorsville, North Carolina, Mayberry raised award-winning goats and was a member of NC FFA. All three of his high school agriculture teachers were NC State alumni, so deciding where he wanted to go to college was easy.

He can explain technical things in a way that makes them relevant.

He graduated from CALS with his bachelor's degree in animal science, then enrolled in the master's program, where he won multiple departmental research awards. His "soft-spoken and very funny" communication style made him a popular choice for teacher's assistant positions.

"He can take technical things and explain them in a way that makes things relevant and connects with people," See says.

As Mayberry's time in the program drew to a close in early 2018, two of his animal science professors, Matt Poore and Daniel Poole, told him about the livestock director job opening at Biltmore and encouraged him to apply. Mayberry thought it was a long shot – until he got the phone call.
On the job
As with any new job, there was a learning curve. Mayberry spent his first two months getting lost on the estate's curving labyrinth of often-unpaved mountain roads – "it involved a lot of trial and error," he says.
Any farmer can attest that livestock operations are a full-time job and then some; if a cow jumps a fence at 4 in the morning, Mayberry gets the phone call. One big lesson from his first few months on the job: delegate.
He also assigned staff and interns to load the farm's particulars into the most up-to-date agricultural software. Animal care is a top priority: "I preach cow comfort," he says.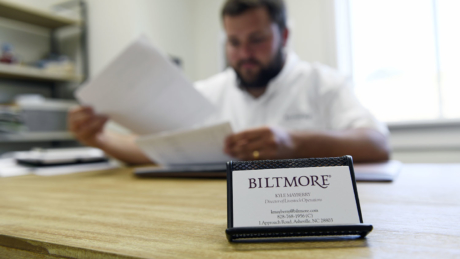 One of Mayberry's favorite parts of the job is the chance to work on the Biltmore's long-term strategic agricultural plan, mapping the operation's road to continued expansion and success. He consults regularly with his CALS mentors, Poole and Poore.
"They've both been here to provide counsel and feedback from their Extension roles," he says. "The same way the N.C. Cooperative Extension Service is pivotal in agricultural communities everywhere, they're pivotal here at Biltmore."
Home sweet home
Not in the big house, of course, though its 35 bedrooms saw their share of guests before the house converted to primarily a tourist enterprise in 1930. Mayberry and his wife, Sara, who is also a CALS alum, live down a winding road about two miles away, in a historic 1940s-era cabin with a wide front porch. Their first home together is also their dream home – and not just for them.
"There's basically a waiting list for our guest room," Sara says.
CATEGORIES: Animal and Ecological Systems, Fall 2019