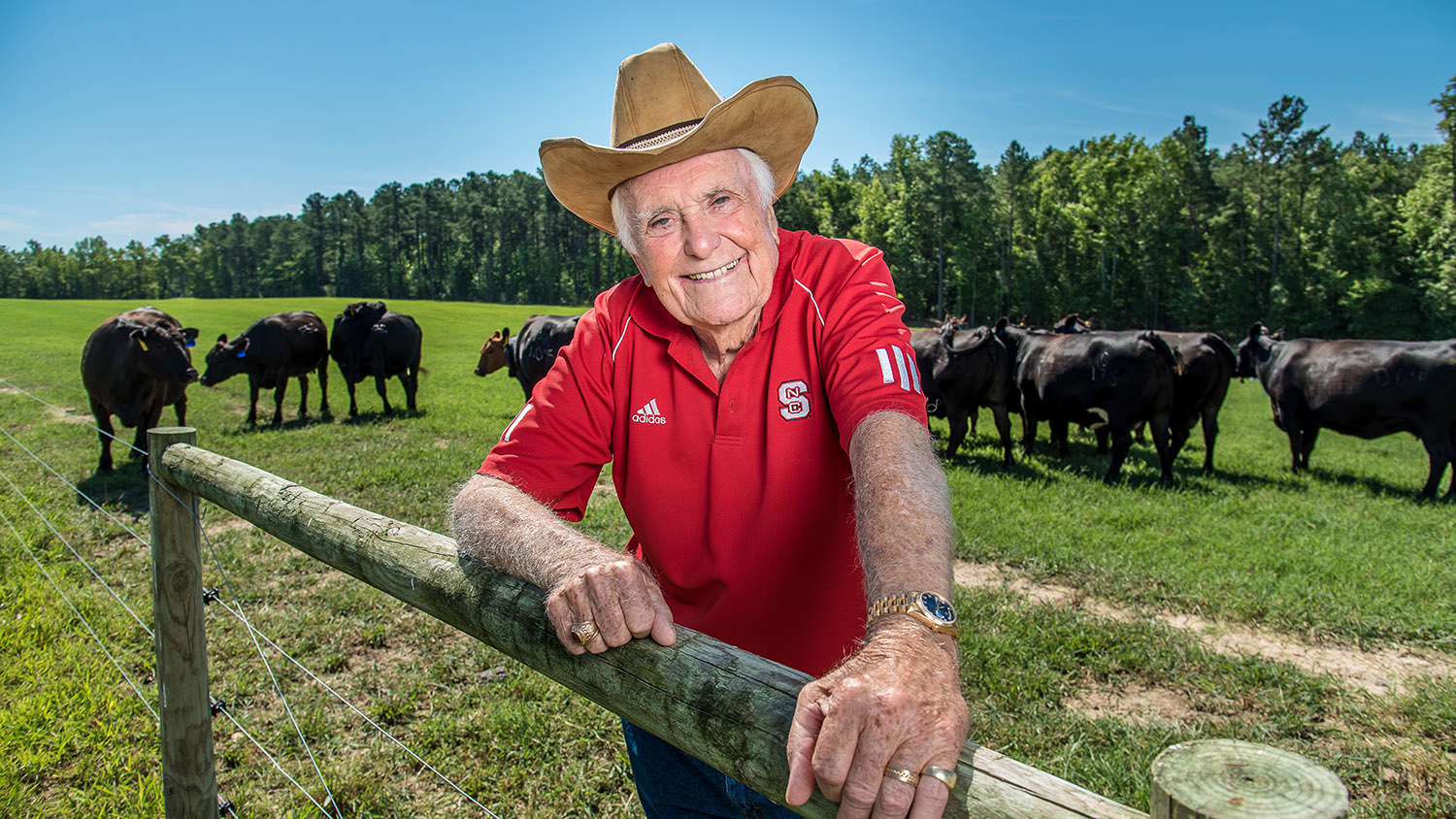 The Power of Giving: Entrepreneur and Philanthropist (and CALS Alum) Carroll Joyner
Carroll Joyner's time as an animal science undergrad at NC State wasn't easy. He was homesick, and he struggled with coursework.
Giving up was never an option. But giving back always has been.
Since graduating in 1956, Joyner has become one of NC State's most generous and lauded philanthropists. He holds an honorary doctorate, and the university's visitor center carries his name.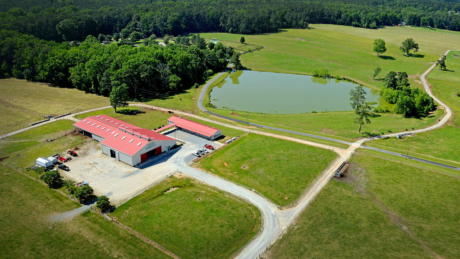 As of September 2019, so does the Beef Educational Unit at CALS' Lake Wheeler Road Field Laboratories. The impact of Joyner's $1.5 million gift to the unit can't be underestimated, says Todd See, head of the Department of Animal Science.
"It's in good shape, but it needs care," See says. "This gift will help sustain that care forever."
Joyner was motivated to give because the project "would have a big impact on other people … all over the country."
Dishwashing his way through college

Joyner's connection to NC State's livestock programs started when he was a child. He raised calves and pigs as a 4-H'er and dreamed of owning a large beef cattle ranch – the goal that ultimately drew him to NC State's Department of Animal Science.
Joyner credits his strong work ethic to give to his upbringing on a 25-acre family farm near Newton Grove. Joyner was close to his mother. She awed him with her hard work and her habit of helping others going through tough times.
At NC State, Joyner drew on the dedication and persistence he learned from her. He says he came to college unprepared and had to take every remedial course the college offered. His parents couldn't afford the full cost of college, so he juggled studies with a dishwashing job. The pay wasn't enough to cover expenses, so he began selling potatoes he'd grown to the cafeteria.
Entrepreneur with a philanthropist's philosophy
Joyner's 'Udder Genius'
E. Carroll Joyner's book, Udder Genius, is part memoir and part instruction manual for life. According to Udder Genius, giving shows…
"… faith in your fellow man. Giving to someone or to a group shows that you care about and value them."

"… faith in what charity and generosity can do in the world."

"… faith that you can make the world better after you're gone and … set up a model for others to give in the next generation."
After graduation, Joyner's hard work paid off. In the course of his career, he's had a cattle farm in Wake Forest, feeder cattle operations in Chicago and Arizona, and a stocker cattle operation in Waynesville. He was also instrumental in starting the North Carolina Cattle Foundation and in giving Warren Wilson College a cattle herd.
While Joyner raised cattle, it hasn't been his only occupation. He's also been a serial entrepreneur. He owned and operated a Western Auto store in Zebulon, then opened the second and third Golden Corral restaurants. He went on to serve as Golden Corral's president for real estate in its early years, growing the chain to about 140 restaurants. He's also had a drywall business, oil wells in Oklahoma and Texas and a series of real-estate projects. 
Not every business venture did well, but the failures haven't shaken his belief in what he calls his "three-bucket philosophy." Success and satisfaction, he says, can come from spending within your means, saving and investing for the future, and sharing money, time and insight with others.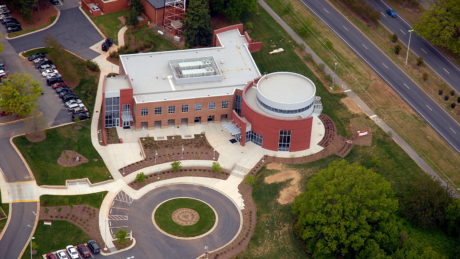 Today, at 86, he devotes time to managing his investments and helping ensure that the projects he funds get off to a good start. In addition to his efforts at NC State, he's donated land for two parks, one in Louisburg named for his late daughter and one in Wake Forest that bears his name. He's also paid for a dorm and for better computers at Louisburg College and set up a foundation for his parents' church.
The projects Joyner pursues must meet three criteria: They must have the potential to help a lot of people, meet demonstrated needs and last a long time. He also prefers that they involve risk.
"When I put my money or my bank's money that I borrow on the line, I'm involved in that particular business more than most people would be," he says. "And I'm not easy to work with. I don't mind telling you that because there are three things that are important to me: I don't lie, I don't cheat and I've got integrity."
CATEGORIES: Animal and Ecological Systems, Fall 2019