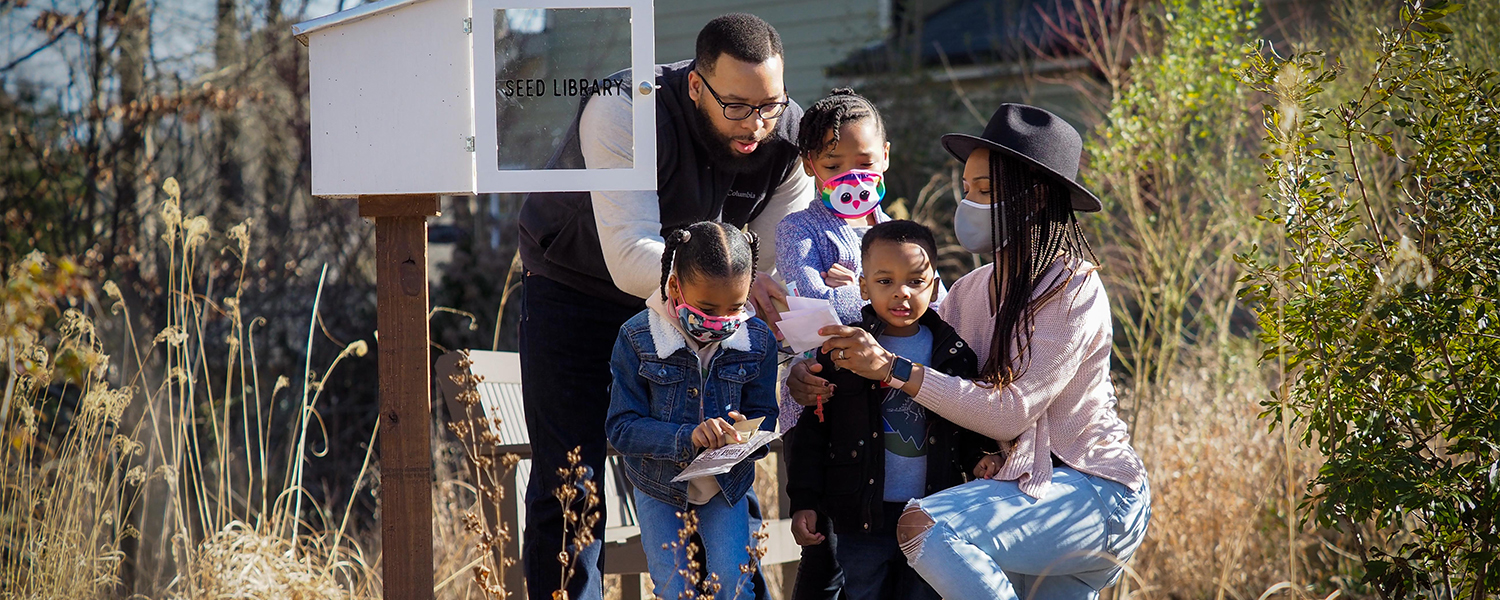 Master Gardener Volunteers Tend to the Community
Master Gardener volunteers in Burke County were almost ready to plant the community garden when the pandemic hit last spring. On the heels of that shock, the volunteers learned that the land on loan for the garden had been unexpectedly sold.
In Watauga County, which has one of the state's highest poverty rates, the pandemic increased the need for food donations—especially fresh fruits and vegetables.
In Wake County, while the usual in-person Extension Master Gardener events had been canceled, interest in gardening was spiking and vegetable seeds were in short supply. 
These challenges were no match for the fertile imaginations of volunteers with the Extension Master Gardener (EMG) program, which has groups in 84 counties across North Carolina.
Special Deliveries for Seniors
When they couldn't plant the community garden, Burke County volunteers scrambled to figure out how to safely be of service in a pandemic.
"Just by nature Master Gardener volunteers are social people," says EMG adviser Donna Teasley, the North Carolina Cooperative Extension agent for agriculture and horticulture in Burke County. "It's a hard year when they can't get out and be in the community."
In June, the Burke County volunteers began weekly doorstep deliveries of produce to a group in need of healthy foods and a friendly visit: senior citizens, many of whom were isolated at home. 
They secured a $1,000 Carolina Farm Credit grant and support from a local church and the North Carolina EMG Volunteer Association. 
Instead of growing vegetables themselves, Master Gardener volunteers bought produce from growers at the Morganton Farmers Market.
"It was a good time to partner with the farmers market, which had experienced a decline in visitors," says Willie Pascal, a Master Gardener volunteer. "It allowed us to support local producers and the economy."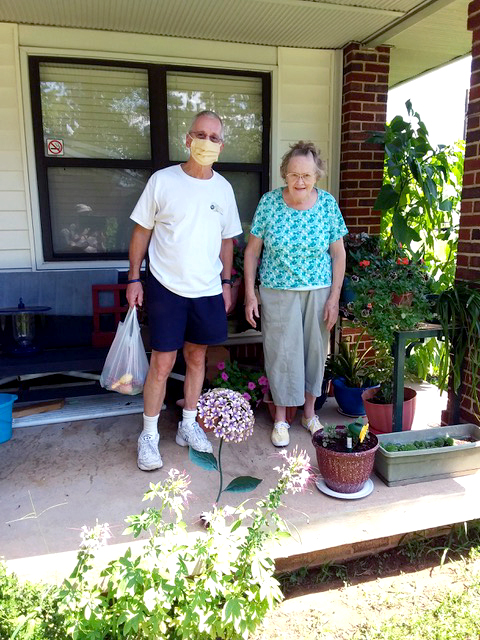 Volunteers gathered a delivery list with help from social service agencies, the housing authority, an affordable housing development and local congregations. Master Gardener volunteers and members of Waldensian Presbyterian Church helped sort and deliver the produce.
On Wednesdays, volunteers delivered locally grown beans, squash, zucchini, peppers, tomatoes, corn, cucumbers and eggplant.
"Because we had the older generation—the average age was over 70—they know how to cook beans and squash," Pascal says.
They also delivered dozens of brown eggs and ripe peaches, a source of delight. 
We established close relationships with so many people we checked in with every week
The volunteers followed rules on masks and social distancing, making about 50 porch deliveries each week. 
Over time, they had conversations through the screen door. How are the grandchildren? What did you grow when you had a garden? With family visits and social activities curtailed, company was welcome.
"We established close relationships with so many people we checked in with every week," Pascal says. "During a pandemic, people were lonely. Several were facing terminal illnesses."
One visit at a time, the team reached 354 people.
"We were greeted with open arms on each occasion we were able to supply people with fresh produce," Pascal says. 
The group plans to continue their special deliveries of produce to seniors this year, thanks to a donor's gift that will extend funding for the program.
Check Out Gardening at the Seed Library
Sharing seeds and sound advice happened organically at pre-pandemic EMG events in Wake County. 
At the spring seed and plant swap, a budding garden-er could find a packet of seeds, a soil testing kit or a tomato plant, along with research-based answers from certified Master Gardener volunteers.
…I enjoy being a mentor for other people.
"When I started gardening 30 years ago, it was because I liked pretty flowers and growing a tomato," says Karen Guy, who finished the EMG coursework, internship and service requirements in 2017. "Now I enjoy being a mentor for other people." 
Guy says she was inspired by the array of Wake County EMG presentations arranged through Jeana Myers, N.C. Cooperative Extension agent for agriculture and horticulture. Guy went on to complete an NC State certificate program in general horticulture in 2018.
"I wanted to go back to school for scientific knowledge, to learn how to research properly, to help sort through a lot of inaccurate information that's out there," she says. "It's my avocation."  
When interest in planting vegetable gardens spiked last spring, it was hard to find packets of vegetable seeds. Guy put her knowledge to work, starting a seed library in her Wake Forest subdivision.  
She was inspired by a blog post from Ireland about allotments for community gardens in the United Kingdom. Some communities operate on-site seed libraries that require those who withdraw seeds to make a future donation. 
Guy liked the concept but not the record keeping. She started researching neighborhood little library designs to see if they could be adapted to hold seeds and soil testing kits.
She had the perfect location: a homeowners association lot near her home where she'd helped put in a pollinator garden.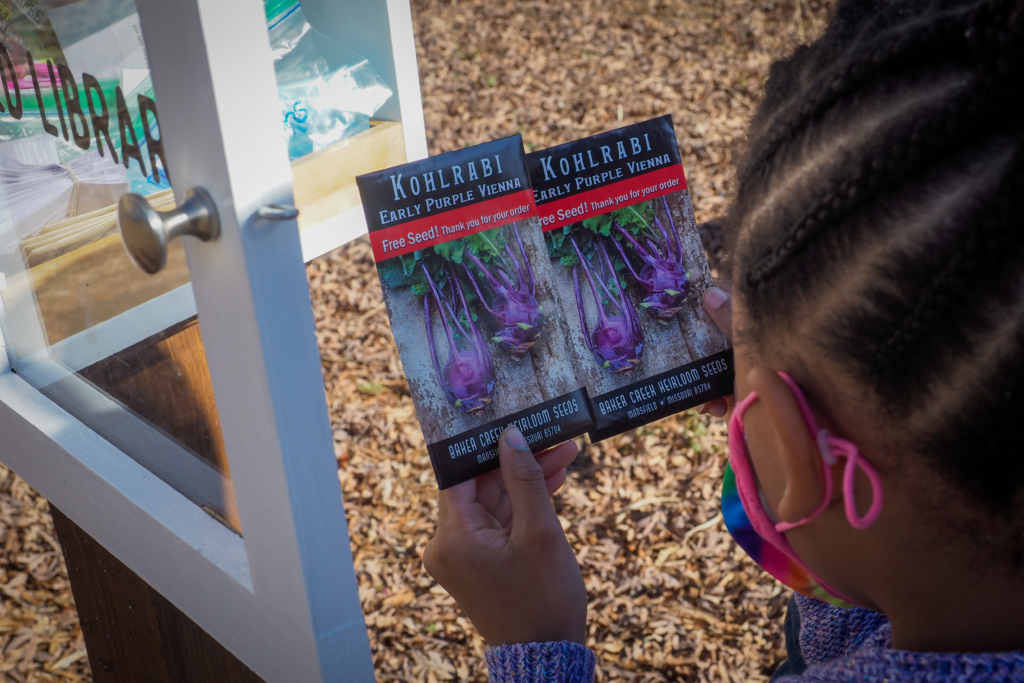 In May, the metal-roofed library was in place under a shade tree. Guy stocked it with seed she had bought, and a fellow Master Gardener volunteer donated clean medicine bottles to  
hold seeds. New offerings and soil test kits are added periodically.
"It's been a total volunteer effort with zero problems," says Guy, who lives nearby and cools down seeds in her refrigerator when summer temperatures peak. 
To promote the seed library, she tapped into a Facebook group, Perennial Gardeners of Wake Forest, which has 3,000 members from Triangle communities.
"This idea could expand if we have success with it," says Guy, who also shared it in a local gardening magazine. "It would be a good fit for walking areas, especially high-traffic areas. I'm told other people are trying it in their subdivisions."
The best part has been seeing her idea bear fruit.
"One day I had the chance to see a mom with her child, picking out seeds and talking about how they would bring some back," she says. "I heard from a daughter that her older father had been afraid to go out and get seeds because of the pandemic. She brought him over to the seed library here to get some.
"That's why I do this. It feels fantastic. It's so rewarding."
'Plant a Row for the Hungry'
Master Gardener volunteers enjoy working shoulder to shoulder on a project, especially when it involves growing vegetables for a local food bank or agency serving those in need. 
That's what appeals to Sandy Windelspecht, a Master Gardener volunteer in Watauga County who's logged more than 200 hours of volunteer service since earning certification in 2015.
"I'm a hands-on, fingers in the dirt kind of person," says Windelspecht, who's passionate about gardening and projects that address poverty and food insecurity.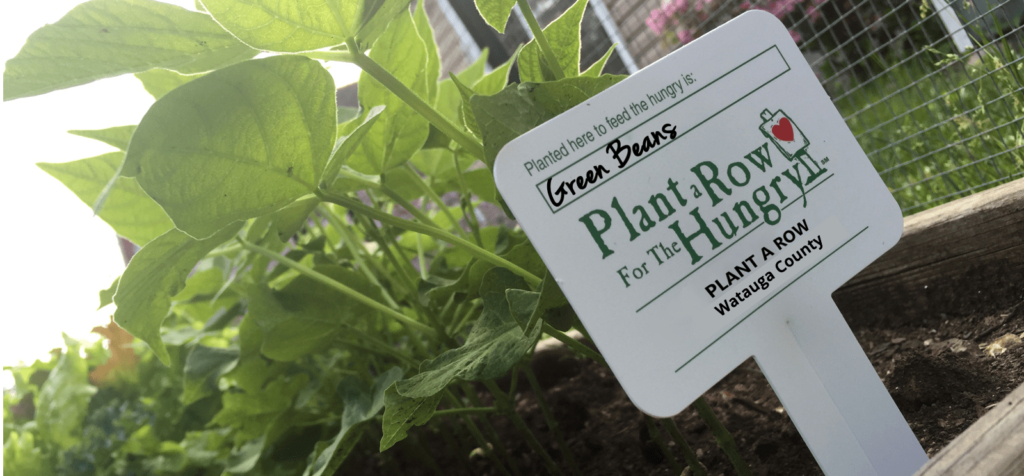 Windelspecht, a board member with the Hunger and Health Coalition in Boone, is the creator of Grow Watauga, a multifaceted community garden and outreach program that supports local food banks with fresh, nutritious foods.
When in-person service opportunities dwindled during the pandemic, she transplanted a national idea, the 'Plant a Row for the Hungry' campaign. Local growers could expand their home gardens and make a contact-free donation at the Hunger and Health Coalition or at Hospitality House, which serves the homeless.  
"Sandy put a huge amount of effort into this," says Paige Patterson, N.C. Cooperative Extension agent for agriculture, consumer and commercial horticulture in Watauga County. "I have offered this as a volunteer opportunity for Master Gardener volunteers who are at high risk and want to do something from their home."
Windelspecht promoted the effort through a campaign of radio ads and articles. Those who responded received packets of seeds, growing instructions, donation information and data about the poverty rate in Watauga County.
"We're the third-poorest county in the state," Windelspecht says. "Boone is a tourist destination, so people don't think of it that way. But one in five kids here are hungry."
Who are Master Gardener Volunteers?
Master Gardener volunteers are passionate about gardening and dedicated to learning and sharing research-based information. They work with horticultural and agricultural Extension agents across North Carolina.
Master Gardener volunteers statewide contributed 229,687 hours of service in 2019.
To learn how to become a certified Master Gardener volunteer, visit:
emgv.ces.ncsu.edu/become-a-volunteer
For her ongoing work, Windelspecht won the 2020 Watauga Food Council's Healthy Food System Award, given for cultivating collaborations that improve the health of the community. 
In 2020, of course, even the awards at the annual Farm City Banquet were "celebrated from a distance," as Jim Hamilton, N.C. Cooperative Extension director for Watauga County, put it. But Master Gardener volunteers will carry on.
CATEGORIES: Newswire, Spring 2021